2013 News and Events
FIREFIGHTER OF THE YEAR 2013

CPFD Volunteer Eric Julian accepts the Firefighter of the Year for 2013. Eric serves as Lieutenant with special responsibility for wildland firefighting; is a trained structure firefighter and first responder; and has the administrative job of tracking equipment and assets.
Congratulations, Eric, for a much deserved award.
December 2013 CERTIFICATES OF APPRECIATION AWARDED

Susi Hennessey (left) received a special certificate for her contributions as a committed structure firefighter, high angle rescue tech and EMT; but especially for building the EMS capability through her leadership in procuring grants and managing supplies and equipment for the EMS team.
Caprice Temple (right) received this certificate of appreciation for her tireless work with the CPFD Auxiliary by arranging and managing events; supporting the CPFD during evacuation in 2012, and exceeding expectations for fundraising.
These certificates are special: the CPFD Maltese Cross was flown aboard the Shuttle Orbiter Atlantis STS-129 in November 2009. These CPFD patches returned to Earth on Friday, November 27, 2009 at 0744 hours (Mountain) after completing an 11-day, 4.5 million mile trip to orbit.  The patches were flown by the United States Air Force's (USAF) Space Test Program in recognition of the commitment to our mission as first responders to Crystal Park.  The STS-129 mission included three spacewalks and the installation of two platforms to the International Space  Station (ISS).  Congratulations to both volunteers!
TRAINING, TRAINING AND MORE TRAINING:
A Look Back on 2013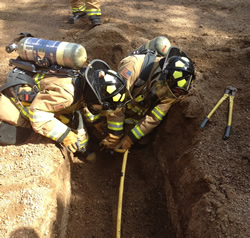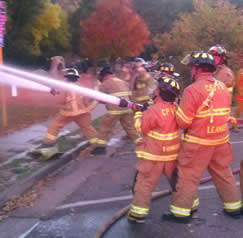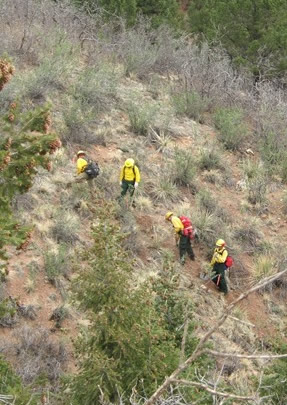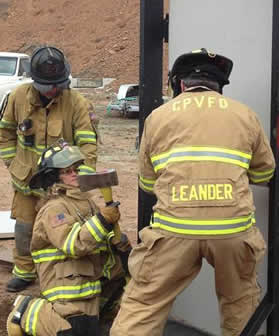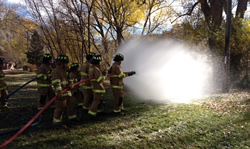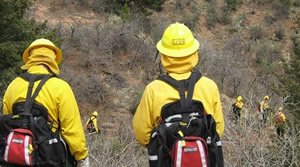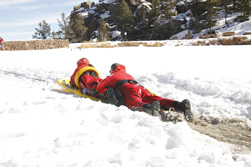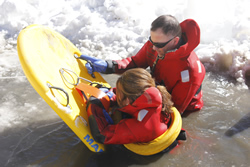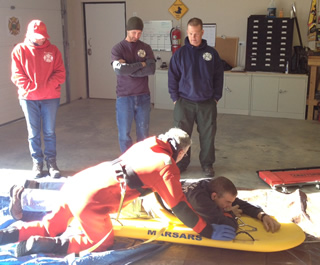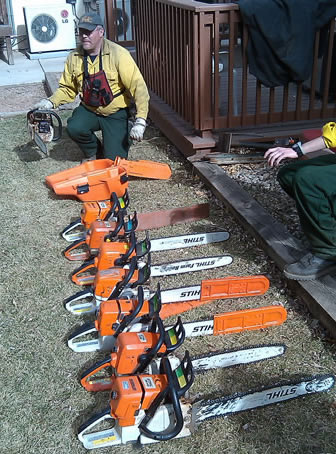 December 12, 2013 ANNUAL HOLIDAY PARTY
CPFD volunteers gathered for good food, awards, and friendship at Christmas time.

November 2013 HONEYWELL MAKES HUGE DONATION TO CPFD
Honeywell presented over $255,000 to local area fire departments after the Waldo and Black Forest fires and the Manitou Springs floods. Mayor Bach, Sheriff Terry Maketa and Honeywell CEO's spoke of the contributions to the community made by volunteer fire departments to the recent fires and floods.

At the event, Crystal Park, Cascade and Palmer Lake Volunteer Fire Departments were particularly honored with donations of new, top quality, protective safety equipment. CPFD chose new lightweight PPE that can be used in technical rescue, flood and medical response and wildland firefighting (the blue set seen above and below) for its volunteers.

All the fire departments in El Paso County and Colorado Springs were represented by leadership at the event. Below CPFD Chief Hennessey, MSFD Chief Buckmiller and CFD Chief Whittemore catch up. CPFD Station Captain Doughty and Deputy Chief Welsch wait for the event to start.
.
Lt. Steve Leander drove the CPFD Engine 910 to the event, and poses by the sign defining the Honeywell Humanitarian Relief Fund. The $255,000 which will be spread out over 12 local departments was contributed by Honeywell employees world-wide and matched by the company. WATCH CHIEF WELSCH BEING INTERVIEWED BY KRDO

A HUGE THANK YOU FROM THE CRYSTAL PARK COMMUNITY AND THE CRYSTAL PARK FIRE DEPARTMENT TO THE EMPLOYEES OF HONEYWELL AND THE HONEYWELL CORPORATION FOR THIS GENEROUS CONTRIBUTION TO THE SAFETY OF OUR VOLUNTEERS.
November 2013 TWO SESSIONS OF ICE TRAINING ARE CONDUCTED ANNUALLY
The first session of 2013 takes place on dry land in preparation for a later training on the ice and in the water! Below, Collin Powers demonstrates how to secure a victim for rescue.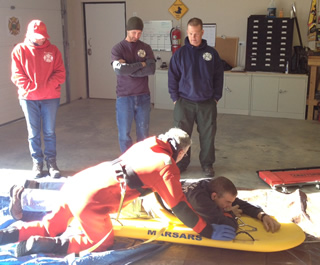 October 2013 HALLOWEEN COMES TO THE CPFD FIRE STATION
Auxiliary Member Caprice Temple hands out candy at the fire station.

September 2013 GOV'T SHUTDOWN LEAVES PIKE NATIONAL FOREST WITHOUT FIRE PROTECTION
Crystal Park Fire Department warns residents to be extra vigilent during this period.
September 2013 RECENT FLOODS HIT CRYSTAL PARK
CPFD was staged at the Crystal Park office for much of the recent flooding in order to be centrally located to the eastern part of Manitou Springs and all of Crystal Park. Our gravel roads in Crystal Park were heavily damaged, and the lake had to be pumped to keep it from damaging the dam and/or overflowing.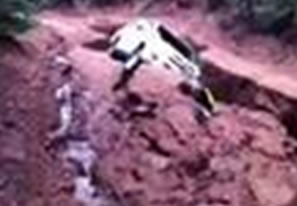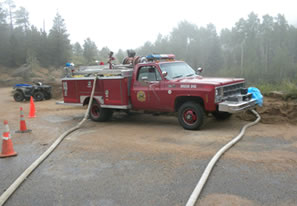 Car stuck in washed out gulleyCPFD pumps out overflow at lake
Summer 2013 CPFD RESPONDS TO TRAFFIC ACCIDENTS
Both residents and visitors must pay close attention while driving our often winding and sometimes narrow Crystal Park roads....even when road conditions are at their best. Don't asnwer that cell phone! Go slow enough to avoid the wildlife that YOU KNOW are constantly on our roads! Stay on your side of the road! Be careful on those blind curves! We are as safe as we want to be.
| | |
| --- | --- |
| August Traffic Accident | May Traffic Accident |
July 2013 PIKE NATIONAL FOREST STAGE ONE THROUGH JULY 15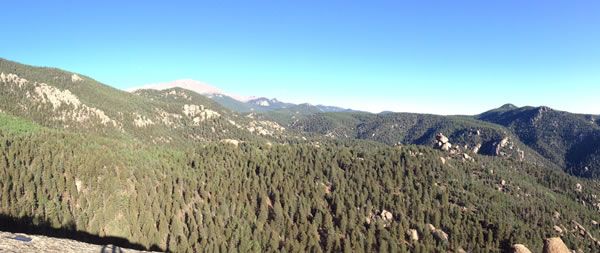 The west boundary of Crystal Park borders Pike National Forest. Cameron's Cone is on the left and Pikes Peak is in the far distance.
July 2013 CREATING WILDFIRE_DEFENSIBLE ZONES IN CRYSTAL PARK
A Free Wildfire Defensibility and Mitigation Assessment is available to all Crystal Park residents. Please have a Crystal Park Fire Department Volunteer assess your home and property for wildland fire defensibility and mitigation. This is a free service for the asking. Contact CPFD Chief.
The following study was compiled from public materials that most closely resemble Crystal Park topography and fuel conditions.

July 2013 CPFD VOLUNTEERS SUPPORT THE CRYSTAL PARK FISHING DERBY
Firefighter Eric Julian and EMT Floyd O'Neil show the kids how to flow water from the fire truck during the 2013 Crystal Park Fishing Derby

July 16, 2013 EL PASO COUNTY LIFTS STAGE ONE FIRE BAN

July 1, 2013 THE CRYSTAL PARK EVACUATION PLAN IS UPDATED FOR 2013
This is essential reading for all residents.

June 30, 2013 19 FALLEN FIREFIGHTERS REMEMBERED

June 2013 SMOKE FROM COLORADO FIRES OVERWHELMS CRYSTAL PARK
South winds brought heavy smoke from the West Fork Complex Fire and the East Peak Fire, causing many smoke investigation calls throughout the region.

May 2013 FIRE ADAPTED COMMUNITIES: Lessons Learned from Waldo Canyon
The Insurance Institute put out an excellent study on sturcture safety in a wildland fire. Why did some homes burn, and others didn't? Case studies indicate some of the reasons. To watch a companion video to this report, go to http://fireadapted.org/
May 2013 VOLUNTEERS COMPLETE WILDLAND FIRE CHAIN SAWS TRAINING
Steve Leander and Collin Powers completed S-212 Wildland Fire Chain Saws which emphasizes personal safety and the tactical application of chainsaws during a wildland fire. That is Steve after a long and dirty day of chainsawing.

May 2013 MONTHLY TRAINING EXERCISE: WILDLAND FIRE FIGHTING

CPFD wildland firefighters trained recently in the lower district north of Oakridge Road. Training included fire line construction, sawyer work, and trunk line deployment to get water into the fire area. Above, trainers direct operations.

May 4, 2013 TOWN HALL BRIEFING PART I: WILDLAND FIRE OUTLOOK 2013

May 4, 2013 TOWN HALL BRIEFING PART II: MAJOR FLOOD IMPACTS ON CRYSTAL PARK

May 4, 2013 "WILDFIRE PREPAREDNESS DAY OF SERVICE": Flyer
CPFD and the Crystal Park Metro District will hold a town hall meeting on the 2013 wildland fire outlook and impending flooding due to the Waldo burn scar.
May 2013 TAX BENEFIT FOR WILDFIRE MITIGATION EXTENDED
The Colorado State Legislature has passed an extension of a tax deduction for wildfire mitigation, a bill sponsored by Sen. Ellen Roberts, R-Durango. The state has offered a tax deduction for clearing brush and creating firebreaks around homes, but the deduction was scheduled to expire in July. House Bill 1012 extends the tax benefit through 2024. The bill allows homeowners to deduct half the cost of their wildfire mitigation work, up to $2,500, from their taxable income. Only about 1,600 Coloradans have taken advantage of the benefit in the last three years. This tax break is not as well known as it could be.
April 2013 The Crystal Park Community Wildfire Protection Plan 2013
The Crystal Park Community Wildfire Protection Plan has been updated by a joint task force including members of the Crystal Park (CP) Homeowners Association Board of Directors, the CP Metropolitan District, the CP Volunteer Fire Department and the Colorado State Forest Service; and approved by the United States Forest Service and the El Paso Board of County Commissioners.

April 20, 2013 "IRON AND LADDERS" TRAINING
CPFD Firefighters Steve Leander, Nick Gurin and Susi Hennessey participated in "Iron & Ladders" training at Green Mountain Falls (GMF) Fire Department where they learned forcible entry techniques.  Here Steve Leander and Susi Hennessey force open a locked door using a "set of irons".  We want to thank the GMF Fire Department for providing this training opportunity to CPFD firefighters.

April 20, 2013 CPFD PARTICIPATES IN THE 9 NEWS ANNUAL HEALTH FAIR


CPFD emergency medical technicians Floyd O'Neil and Andra Martin support the 9HealthFair in Manitou Springs.  The 9HealthFair promotes health awareness and encourages individuals to assume responsibility for their own health.  Crystal Park Fire Department and its Auxiliary, along with members of the Manitou Springs Fire Department, support this event every year.  Other volunteers included Chief John Hennessey, Engineer Mike Doughty and Auxiliary Caprice Temple.
April 2013 CPFD ANNOUNCES "READY, SET, GO!"

• Ready – Be Ready, Be Firewise. Take personal responsibility and prepare long before the threat of a wildland fire to Crystal Park so your home is ready in case of a fire. Create defensible space by clearing brush away from your home. Use fire-resistant landscaping and harden your home with fire-safe construction measures. Assemble emergency supplies and belongings in a safe place. Plan escape routes and make sure all those residing within the home know the plan of action. Contact CPFD for Firewise evaluation.
• Set – Situational Awareness.  Pack your emergency items. Stay aware of the latest news and information on the fire from local media, the CPFD website and public safety. 
• Go – Act Early!  Follow your personal wildland fire action plan. Doing so will not only support your safety, but will allow CPFD and incoming firefighters to best maneuver resources to combat the fire.
The Ready, Set, Go! Program is managed by the International Association of Fire Chiefs (IAFC) and seeks to develop and improve the dialogue between fire departments and the residents they serve.  Now in its second year nationally, the program has over 500 member departments and agencies representative of 46 states. It continues to work in complementary and collaborative fashion with existing wildland fire public education efforts, like Firewise, and amplifies their messages to individuals to better achieve the common goal we all share of Fire Adapted Communities.
April 3, 2013 WALDO CANYON FINAL AFTER ACTION REPORT
This is an hour-by-hour and day-by-day description of the actions taken throughout the Waldo Canyon fire. Strengths are identified, with accompanying recommendations to address issues that emerged.
March 2013 ICE RESCUE FIELD TRAINING
The Crystal Park and Manitou Springs Fire Departments conducted Ice Rescue Training on Saturday, March 2, 2013 at the lake.  This is annual training to keep us sharp, proficient, and prepared in the event we are required to execute a rescue of a victim who has fallen through the ice.  Crystal Park FD has certified Ice Rescue Technicians trained and qualified in these techniques.  

January 2013 INCREASED FIRE DANGER NECCESITATES REORGANIZATION OF COLORADO'S FIRE SAFETY, CONTROL AND PREVENTION PROGRAMS
The Colorado Division of Fire Prevention and Control now takes responsibility, formerly held by Colorado State University and the Colorado State Forest Service, for safeguarding the public through: fire prevention and code enforcement; wildfire preparedness, response, suppression; coordination, and management; training and certification; public information and education; and technical assistance to local governments.

January 2013 ANNUAL "INDOOR" ICE RESCUE TRAINING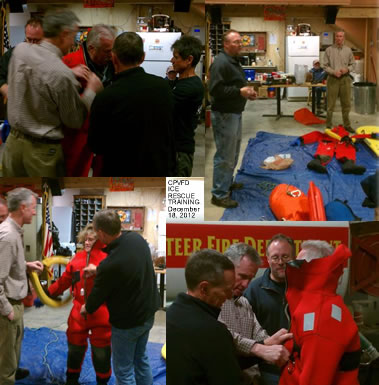 Crystal Park FD Firefighters and EMTs go through an annual refresher Ice Rescue Training.  This training is conducted by the department's certified Ice Rescue Technicians, Firefighters Steve Leander and Collin Powers. This is a prerequisite for conducting the Field Exercise in March on the Crystal Park pond.
2012 FIREFIGHTER OF THE YEAR
Steve Leander was voted by his peers to be the 2012 Crystal Park Firefighter of the Year. Steve has responsibility for all communications, which includes researching, procuring, maintaining and programming pagers and radios. Communication in the field is a top priority for the safety and efficiency of our firefighters, and Steve has never let us down. In addition, Steve is certified in Technical Ice Rescue and High Angle Rescue, is a wildland fire red card holder and has deployed on several large wildland fires in and out of state, has completed the basic structure firefighter course and is certified as an EMT/IV. Thanks for all your hard work, Steve!

Steve Leander