2012 News and Events
Archives
ARCHIVES
2012 FIREFIGHTER OF THE YEAR
Steve Leander was voted by his peers to be the 2012 Crystal Park Firefighter of the Year. Steve has responsibility for all communications, which includes researching, procuring, maintaining and programming pagers and radios. Communication in the field is a top priority for the safety and efficiency of our firefighters, and Steve has never let us down. In addition, Steve is certified in Technical Ice Rescue and High Angle Rescue, is a wildland fire red card holder and has deployed on several large wildland fires in and out of state, has completed the basic structure firefighter course and is certified as an EMT/IV. Thanks for all your hard work, Steve!

Steve Leander
December 2012 NIGHT TIME ROLL OVER IN CRYSTAL PARK

CPFD responded to a rollover motor vehicle accident Saturday night, Nov 18th, for a car that went off of the road near Grand Horizon. The call initially came in via personal phone-- we would like to remind everyone to call 911 for any vehicle accident or other emergency as it reduces the response time of all needed resources.
December 2012 AUXILIARY AND DEPARTMENT VOLUNTEERS WIND UP SUCCESSFUL FUNDRAISER
Boriello Brothers Real New York Pizza made possible a very successful fundraiser. We quickly sold out of pizza coupons. Thanks to all and enjoy your delicious pizzas!!
Borriello Brothers Presents

A Pizza Fundraiser!!
for
Crystal Park Fire Department and Manitou Springs Volunteer Fire Department

Purchase a $10.00 Coupon and get a $20.00 18" XL Specialty Pizza
at Borriello Brothers Real New York Pizza!
Thank you for your donation and thank you Borriello Brothers for your support!!! Remember, your coupons expire December 31, 2012.
November 2012 CRYSTAL PARK FIREFIGHTERS ASSIST WITH "ALIVE TO STRIVE"



CPFD Firefighters/EMTs Steve Leander and Floyd O'Neil participated in the "Alive to Strive" event put on by Manitou Springs Fire Department at the Manitou Springs High School. The demonstration for the students, faculty, and families included vehicle extrication, ambulance transport and Manitou Springs Police Department operations. The theme of the demonstration centered around the dangers and potential results when texting while driving.
(FF/EMT Leander is top row 4th from the left and EMT O'Neil is front row 2nd from the left).
November 2012 MSFD AND CPFD ROLL OUT NEW T-SHIRT FOR SALE

Show your support for the CPFD! Purchase an "I SUPPORT" t-shirt. All proceeds go to the fire department to purchase needed equipment. Click for more information!
October 2012 HALLOWEEN COMES TO THE CPFD FIRE STATION


No tricks here...just plenty of treats!



Charlie Ennis of the Crystal Park Metro District Takes Trick-or-Treaters on a Hay Ride
October 2012 CREATING WILDFIRE DEFENSIBLE ZONES IN CRYSTAL PARK
The information included in this paper represents industry standards and has been adjusted for the unique terrain, topography and forest characteristics in Crystal Park. Use this as a useful guide for fuel mitigation around your home.
September 2012 AFTER A TOUGH FIRE SEASON, IT'S BUSINESS AS USUAL FOR THE CPFD


Crystal Park and Manitou Springs firefighters conduct hydrant and nozzle operations training. Here, Susi Hennessey and Steve Leander work together.



Crystal Park and Manitou Springs firefighters and engineers conduct annual hose testing for all fire hose on each department's apparatus.
September 2012 CPFD PANCAKE BREAKFAST WELL-ATTENDED, EDUCATIONAL AND FUN

Dave Fredley demonstrated how well Barricade Gel works. This stuff is really fantastic!
That torch is 3500 degrees, well above the temperature of a normal wildland fire, and it did not affect the gelled area at all.

Memorial Star personnel landed in the pad close to the lake and spoke with residents and fire department personnel about their operations and what to expect if ever they are needed in a medical emergency here in Crystal Park.
August 2012 CRYSTAL PARK VOLUNTEER FIRE DEPARTMENT INVITES COMMUNITY

Invites you to our 5th annual
Pancake Breakfast
In appreciation for your continued support, our firefighters
and first responders would like to cook you breakfast:
pancakes, sausage, juice, coffee and hot chocolate! 
Educational materials will be available
Q & A with department chiefs
Drawing to win amazing gift certificates
Cookbooks will be available to purchase
Raffle for gift certificates and carbon monoxide detectors
Gel Demo (fire retardant)
Memorial Star Helicopter 9:30 a.m. @the helipad
Saturday September 8, 2012
Crystal Park Clubhouse
9:00 am – 11:00 am
See You There!

This event was completely funded by your Crystal Park Fire Department Volunteers for your enjoyment and fire education.
August 2012 COLORADO SPRINGS FIRE DEPARTMENT ASSISTS HOA WITH DAM INSPECTION

Recently the Colorado Springs Fire Department Dive Team from Station 17 was requested to find the outlet pipe under the Crystal Park dam, as part of an inspection request by the State of Colorado. Thanks, guys!

August 2012 CPFD RESPONDS TO TRAFFIC ACCIDENT IN CRYSTAL PARK
The individual involved in this traffic accident was not a resident or a member of Crystal Park; please be careful about vehicles following you past the gate.

June 23-27, 2012 WALDO CANYON FIRE ERUPTS
Crystal Park residents were under mandatory evacuation. Thanks to all for your cooperation and support.

May 26, 2012 CPFD AND MSFD HIGH ANGLE RESCUE TEAM RESPONDS

The High Angle Rescue (HAR) team and El Paso County Search and Rescue responded to an injury on the Manitou Springs Incline. Read more about it: OutThereColorado.Com
In April, the CPFD HAR team was toned out for mutual aid to support technical rescue at Rainbow Falls in Manitou Springs. Four members of the CPFD High Angle Rescue Team responded to execute a technical rescue of a fall victim. Following the incident, Chief Buckmiller (MSFD) requested from Chief Hennessey that for any technical rescue call, CPFD HAR be automatically dispatched.
May 2012 CPFD PARTICIPATES IN MEDICAL EMERGENCY HELICOPTOR TRAINING
Manitou Springs and Crystal Park Fire Departments receive annual helicopter training from the crew of Memorial Hospital's "Memorial Star" helicopter.  Each year firefighters from both departments train to ensure we are proficient regarding safety, procedures, and flight medical care for our residents.

May 19, 2012 CPFD RESPONDS TO ROLLOVER ON PALMER TRAIL
Theer were no injuries to the driver.

May 2012 CPFD ENGINE PASSES ANNUAL PUMP TEST
CPFD Engine 910 undergoes annual pump testing.  Engine 910 may be old but it passed the test with flying colors.


April 2012 CERTIFICATE OF APPRECIATION TO BORIELLO BROTHERS
Crystal Park and Manitou Springs Volunteer Fire Departments present a Certificate of Appreciation to Borriello Brothers Pizza for their continued support of the Fire Service and fundraiser event last September 11, 2011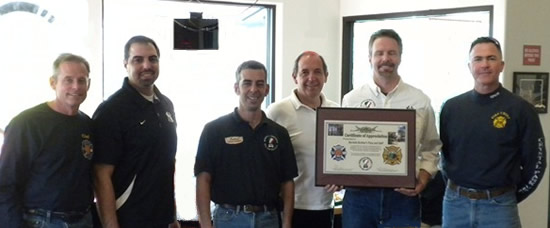 April 2012 HIGH ANGLE RESCUE TRAINING
The Manitou Springs Vounteer Fire Department and the Crystal Park Fire Department High Angle Rescue Team conducted training in Crystal Park recently.

Learning the ropes; safety always comes first.


March 17, 2012 RAPID INTERVENTION TRAINING

All Crystal Park structure Firefighters participated in joint "Mayday" training with Manitou Springs FD members. This was an 8-hour class focusing on Firefighter rescue and Mayday communications.  Firefighters were in full protective gear (PPE) with no ability to see in order to simulate a completely smoke filled environment.  They were required to communicate with Command before entry and throughout the evolution.  They traced approximately 200 ft. of fire hose, negotiated turns and tight spots, and dealt with a simulated wall collapse pinning them down:

First opportunity to call Mayday
They then negotiated stairs ending with a simulated floor collapse:

Second opportunity to call Mayday 
Training "Cadre" were Ashley Brooks and Christian Herrera of the Cimarron Hills Fire Dept. and Lt. Brad Dorris and Capt Randy Perkins of MSFD. Excellent training!!
March 2012 WILDLAND FIRE SEASON COMES EARLY
Colorado weather never fails to change, often suddenly: yesterday we practiced ice rescue on the lake; today we watch for fire weather warnings. Luckily, Smokey the Bear visited the fire station to remind us all to be extra careful in the coming months.

All residents of need to be aware of Crystal Park HOA rules pertaining to fire danger in this community. The HOA prohibits all outdoor open fires and fireworks of any kind. Residents also need to warn visitors, contractors, and workers about smoking outside and the safe disposal of cigarette buttes. Make sure your outdoor equipment has spark arresters that are in good condition. Don't hesitate to call 911 if you see smoke....CPFD is ready to investigate any smoke within minutes of your call.

Only you can prevent wildfires!
February 13, 2012 CRYSTAL PARK HOA PRESENTS CERTIFICATE OF APPRECIATION

HOA President John Swafford presented the CPFD with a plaque in appreciation for the quick and safe response to the recent fire that engulfed one of our resident's homes. Chiefs Welsch and Hennessey accepted on behalf of all the volunteers and supporters of the department.

February 18, 2012 CRYSTAL PARK VOLUNTEER FIRE DEPARTMENT CELEBRATES 5TH ANNIVERSARY
Deputy Chief Welsch, Chief Hennessey, firefighters and auxiliary members hosted an open house at the Fire Station/Multi-use Building in Crystal Park on February 18. Five years ago, the CPFD was officially formed. The open house gave District residents a chance to view the progress made and have questions answered.

February 2012 JOAN POWERS RECEIVES RECOGNITION
At the 5th Anniversary Open House of the Department, Joan Powers was presented with a Certificate of Appreciation for her work on procuring over $100K in federal and state grants for the department. What makes the certificate special is the CPFD patch which had been to space and back on the Atlantis shuttle in 2009.

February 2012 ICE RESCUE TRAINING
On a very cold morning in February, CPFD used its monthly Saturday training to practice ice rescue. FD Volunteers Steve Leander and Collin Powers are certified ice rescue technicians; the required ice rescue equipment was purchased using local donations. MSFD member Brad Dorris played the victim in the freezing water.

Department volunteers look on and learn...ready to provide support.... and glad they are not the ones in the freezing water:

January 2012 CPFD OFFICERS SWORN IN
Foreman Collin Powers swears in officers for 2012: Department Chief John Hennessey, Deputy Chief Paul Welsch, Treasurer Floyd O'Neil, and Secretary Andra Martin.

2011 FIREFIGHTER OF THE YEAR
CPFD volunteers vote on who they believe provided unwavering support and gave 100% to the department throughout the year:

DICK O'BRIEN
2011 CRYSTAL PARK FIREFIGHTER OF THE YEAR