2008 News and Events
Archives
2008 FIREFIGHTER OF THE YEAR
Engineer Mike Doughty was selected by his peers as the Crystal Park Fire Department "2008 Firefighter of the Year".   Mike's leadership and dedication stood out as he led all apparatus training for the Department; supported the justification, acquisition and installation of Crystal Park's first dry hydrant; provided countless hours in support of the construction of the new Fire Station and Shelter-in-Place; supported the Department's budget and funding efforts; helped research and acquire needed equipment; and supported the Department's grant efforts.  Mike was recognized for his outstanding efforts by the Active and Associate volunteers.  Congratulations Mike!!!
December 2008 Training Completions
Two CPFD volunteers completed training milestones: Susi Hennessey passed both written and practical tests completing the EMT-Basic training. All that remains is to take the National test. She is the first EMT on the Department roster. Collin Powers completed his Wildfire Firefighter training and is the Department's newest wildland firefighter.
GRANTS UPDATE
CPFD has recieved an Aid to Firefighters Grant (AFG) from the Department of Homeland Security for $65,000 to purchase personal protective gear, equipment and for critical training of firefighters, first responders and engineers.

CPFD has submitted a request to be considered for a Fireman's Fund Heritage Grant through the Fireman's Fund Insurance Company.
November 2008 Fire Station Construction Begins
Ground-breaking for the Fire Station culminates a long effort initiated by Crystal Park as a key part of its Community Wildfire Protection Plan.  The facility will be used in several ways that include "shelter-in-place", maintenance facility, and the designated home for fire apparatus and the Crystal Park Fire Department. The initial building should be completed by mid December and will be operational 365 days/year.  As a cost saving measure, the CPFD members have agreed to volunteer their time to do much of the construction work and to ensure the station has heating and electricity. In the picture below, Firefighter Sand, Deputy Chief Welsch and Lt. Collins put their collective feet to the first shovel of dirt for the new building.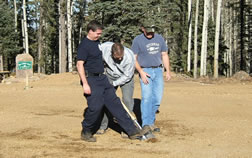 November 22, 2008 CPR Now Available to CP Residents
First Responder Floyd O'Neil has completed a monitored class and is now certified to teach CPR.  Thanks to Verne Witham for providing the funding through the City and MSFD for the course.  Floyd will offer CPR classes to residents in the Park that are interested:  Most Park members will only need "Family and Friends CPR" but he can also offer a higher level of BLS training.
ANNOUNCEMENT
Thanks to Dr. Brian R. Crawford of Front Range Emergency Specialists who has agreed to sponsor, supervise and advise the CPFD EMS First Responders.
GRANTS UPDATE
CPFD has been awarded a Volunteer Firefighters Assistance (VFA) grant from the Colorado Forest Service to purchase a rescue chain saw, communications equipment and personal safety equipment.

An AFG applicationto the Department of Homeland Security for a brush truck was rejected.
October 24, 2008 Crystal Park Residents Back Home After Propane Truck
Slides Off Road
CPFD responded to a potential chemical spill and helped to evacuate affected residents.

From a KKTV 11 News Report: Manitou Springs Police say all residents are back in their homes Friday night after a propane truck skidded off Neon Moon View Road in Crystal Park. Police say there are no leaks and no one is in immediate danger, but residents within a half mile radius are being evacuated as a precaution. Authorities say the 2500 gallon propane truck was making routine deliveries in the Crystal Park area when it accidentally drove off the road. Crews have recovered the truck and everything in the area is back to normal. No injuries have been reported.
September 27, 2008 Park Named for CP Resident Jim Cather
Jim Cather did such a fantastic job on preparing fire break protection for the new multi-use facility, that the area became a beautiful park to be enjoyed by walkers and picnicers. Thanks also go to other helpers, including Charles Davis and Dan Nelson.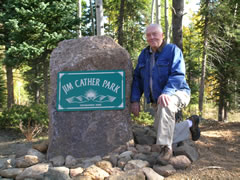 September 27, 2008 2nd Annual Pancake Breakfast and CPFD Town Hall
The Department held its 2nd Annual Pancake Breakfast followed by a Town Hall meeting. Residents came to enjoy a good breakfast served up by the CPFD Firefighters, Engineers, and 1st Responders.
September 2008 New Dry Hydrant for Crystal Park
This installation in Upper Park lake allows the tender to pump an endless supply of water from the lake to transport to a fire scene. Read more.
ANNOUNCEMENT
The Forestry Committee is in the process of coordinating the thinning of trees and brush around homes in Crystal Park to help with fire mitigation. If you need help in this please place a request with the Forestry Committee for work around your home. Indicate what you have done so far and what you need help with. We hope to begin surveying, prioritizing and scheduling these requests starting with our August 20th meeting.

Send requests to Lou Pappas lou@pappasdavis.com or drop off written requests at the office.
ANNOUNCEMENT: FREE FIREWISE ASSESSMENTS
CPFD volunteers are available to conduct "Firewise" assessments for Crystal Park members. Firewise assessments will provide you with an evaluation of what you can do around your home to mitigate the risks from wildland fires. All assessments will be left with the resident when completed. For more information, go to Firewise,

To schedule your assessment, email CPFD Chief.
Help us become a Firewise Community.
July 2008 Training Completions
Floyd O'Neil becomes the sixth member of CPFD to become certified as a First Responder. This makes a total of 7 members qualified to respond to medical emergencies, since Firefighter Sean Collins had completed wilderness first responder training last year.
July 9, 2008 CPFD Firefighters Aid California
CPFD Chief Hennessey returns from a two week commitment to fight the California wildfires; CPFD Firefighter Charles Davis heads out for two weeks to battle the California flames.
June 2008 GRANTS UPDATE
CPFD submitted a grant proposal to the Volunteer Fire Assistance Program for communications equipment, safety equipment and a rescue chain saw.

CPFD submitted a request to Centura Health: Penrose-St. Francis Health Services for an Automatic External Defibrillator (AED) to be housed in the fire station.
May 15, 2008 Training Completions
Five CPFD members complete First Responder Training and are certified: John Hennessey, Suzi Hennessey, Steve Leander, Collin Powers and Jacque Julian. Jacque will assume team leadership of the new unit.
April 19 and 22, 2008 CPFD Canvas Bags Go on Sale
Earth Day sales of CPFD canvas grocery bags will take place at the Safeway on Colorado. Come and get em!
April 2008 GRANTS UPDATE
CPFD submitted two applications for Assistance to Firefighters Grants (AFG). One application would completely outfit our firefighters with Personal Protective Equipment (PPE) for structural fires and provide extra safety for wildfires. The second application is for a new much needed brush attack truck.