2011 News and Events
Archives
2011 FIREFIGHTER OF THE YEAR
CPFD volunteers vote on who they believe provided unwavering support and gave 100% to the department throughout the year:

DICK O'BRIEN
2011 CRYSTAL PARK FIREFIGHTER OF THE YEAR
December 13, 2011 HOUSE FIRE IN CRYSTAL PARK
One of our residents lost their home and belongings to fire. No one was home at the time, and no people or pets were harmed. 
Within minutes of the 911 call, the first firefighters from Manitou Springs Fire Department and Crystal Park Fire Department were on scene.  Responding agencies were forced by the magnitude of the fire to take a defensive strategy, ensuring that the garage and the surrounding forest were not threatened by the devastating fire. 
MSFD was the first due engine and prepared attack lines while CPFD was second due and established water supply.  Five water tenders were used to haul water to CPFD Engine 910 which then pumped the water to MSFD Engine 1. Since Crystal Park does not have fire hydrants, a water shuttle system was used, with almost 30,000 gallons of water required to control and suppress this fire. 
Crystal Park and Manitou Springs firefighters worked throughout the night and the next day to ensure that the fire was out and could not spread to nearby trees.  
Dozens of firefighters and support personnel were required to contain the fire: We want to thank the following agencies for their quick response, professionalism and mutual aid support:
Manitou Springs Volunteer Fire Department
Colorado Springs Fire Department -- Station 5, Station 3 and District 1
Northeast Teller County Fire Protection District
El Paso County Sheriff's Office
El Paso County Wildland Fire Suppression Team
Green Mountain Falls/Chipita Park Volunteer Fire Department
Ft Carson Fire Department
American Medical Response (AMR)
Pike Peak Firefighters Association (PPFFA)
A special thanks to our Crystal Park HOA staff, John, Larry and Mike, for rushing to the assist.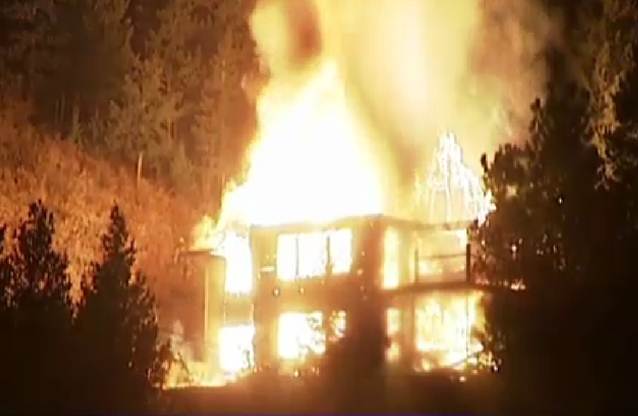 KOAA News Channel 5 Photo
October 2011 TRAFFIC ACCIDENT ON MAIN ROAD
CPFD responded to a traffic accident on Crystal Park Road. EMS, firefighters and ambulance services were on the scene.

October 2011 40 HOUR HIGH ANGLE RESCUE TRAINING
Manitou Springs and CPFD firefighters recently undertook and completed a 40 hour training session in High Angle Rescue (HAR) taught by Pat Rogacki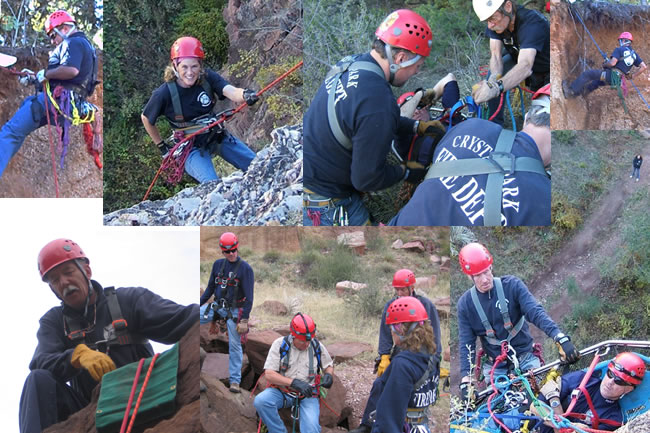 September 2011 CPFD FUNDRAISER AT BORRIELLO BROTHERS PIZZA
Volunteer firefighters and Auxiliary members spent Sunday, September 11 making and serving pizzas at three locations of Borriello Brothers as one of their main fundraising efforts. It is truly a special opportunity given to the department by Borriello Brothers and we are extremely grateful!! A special thanks goes out to all who came out and supported CPFD by enjoying delicious pizza at Borriello Brothers!!
August 2011 CPFD ASSISTS HOMEOWNER WITH DRILLING
CPFD supports well drilling for residents ready for a well.  During the Stage 1 Fire Ban which restricts outside welding, CPFD volunteer support allowed for an El Paso County Temporary Welding Permit to be provided by the Fire Marshall's Office.  Engineer Mike Doughty wets down the area where the welding took place.  All Crystal Park residents and members should contact the El Paso County's Fire Marshall Office in the event a temporary permit of this nature is required.

August 2011 WILDLAND FIRE OUTLOOK
The National Interagency Fire Center Predictive Services released its Wildland "Significant Fire Potential" Outlook for August through November 2011. Our area looks to be "normal" through that time period.
July 2011 CPFD TAKES PART IN HELICOPTOR RESCUE TRAINING

Crystal Park FD and Manitou Springs FD recently conducted annual training with Memorial Star Helicopter Transport. Engineer Dick O'Brien in the pilot's cockpit remembering old times!!
July 4, 2011 TOO CLOSE FOR COMFORT!


CPFD, MSFD, Colorado Springs Fire, El Paso County and other departments all responded to calls for a July 4th fire that was in Bear Creek Canyon and very close to Crystal Park. Many residents observed the action from their decks. A tanker and a helicopter provided air support to this inaccessible area. This photo was taken from Lower Vista. THANKS TO ALL RESPONDING FIREFIGHTERS!
June 2011 CPFD OUTREACH AT CRYSTAL PARK PICNIC

A CPFD firefighter demonstrates the power of water, in the hopes of recruiting a future volunteer at the June 11 picnic in Crystal Park. Other information about fire prevention awareness was also available.
June 2011 THIRD WRECK BELOW THE UPPER SWITCHBACKS

Crystal Park FD responded to a vehicle roll over on a Sunday in June in good weather.  Please be careful driving on Crystal Park Road as this was the 3rd accident in this particular area, just below the lower switchback. No one was injured; however it is always important to call 911 in case there are gas and oil leaks. In this case, sparks from dragging the vehicle by the tow truck in order to get it away from the curb could have caused a fire.
June 2011 CRYSTAL PARK EVACUATION PLAN IS UPDATED
There are six staging areas and one shelter in place that all residents must become familiar with. It is imperative, for the safety of all residents, that each family understands the evacuation procedure that is appropriate for them. Please review the updated plan carefully and discuss with your family members. Version 3 Crystal Park Evaucation Plan
May 2011 THE HISTORY OF CRYSTAL PARK WEBSITE UNVEILED
Check it out! http://historiccrystalpark.blogspot.com/ Just one more reason to preserve and protect beautiful Crystal Park!
May 2011 MANITOU SPRINGS FIRE DEPARTMENT HONORS ONE OF OUR OWN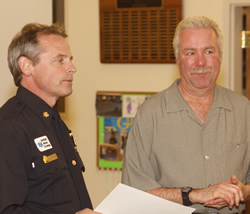 Crystal Park Firefighter Floyd O'Neil receives Certificate of Appreciation from Manitou Springs Fire Department at their annual awards banquet.
May 2011 ANNUAL ENGINE TESTING SUCCESSFUL

Engine 910 was put through its paces during pump testing at the Manitou Springs fire station on May 19.
April 2011 CPFD TOWN HALL MEETING IS HELD AT CLUBHOUSE
Chief Hennessey's presentation can be viewed here.
April 2011 SHERIFF TERRY MAKETA ORDERS STAGE I FIRE RESTRICTIONS
Due to the continued dry conditions and the National Weather Service forecast for continued dry and warmer than normal conditions, resulting in very high to extreme fire danger ratings, Sheriff Terry Maketa has ordered Stage I Fire restrictions for all of the unincorporated areas of El Paso County.  The Stage I fire restrictions shall go into effect immediately.
STAGE I RESTRICTIONS can mean tough fines for non-compliance.
BE OVER CAUTIOUS and report any suspicious smoke immediately! Call 911 for an immediate smoke investigation.
April 2011 CPFD VISITS GIRL SCOUT TROOP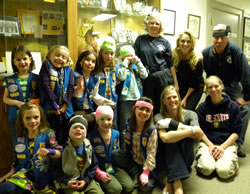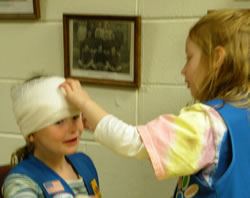 Jacque Julian and Floyd O'Neil visited a local "Daisy" scout troop to talk about being a first responder and an EMT. The girls got right into the swing of things and bandaged each other up for just about any emergency!
March 2011 MORE MONTHLY NEWS AVAILABLE
Each month the CPFD Chief reports all department activities of the month to the Metro Board. Crystal Park Metro District residents and homeowners can access those reports here.
February 2011 CPFD RECIEVES TWO GRANTS IN 2011
Homeland Security/FEMA has awarded an Assistance to Firefighters grant (AFG) for just under $19,000 in federal funds to the department to purchase protective bunker gear and a thermal imaging camera. The camera is used to ensure that structure and wildland fires are completely out by imaging hidden hotspots.
The second grant is a State of Colorado grant to enhance wildland firefighting efforts. The Volunteer Fire Assistance Grant (VFA) awards the CPFD approximately $2500 as a 50% match to purchase wildland firefighting protective gear and tools.
February 2011 CRYSTAL PARK CELEBRATES ITS 4TH ANNIVERSARY
Thanks to everyone that has had a hand in our success!
January 2011 BAD WEEK ON CRYSTAL PARK ROAD
There were two significant vehicle accidents in two days on Crystal Park Road in the first month of 2011. Although recent snows and extremely cold temperatures have had a huge impact on our mountain roads, neither incident appears to have been the result of losing control due to road conditions.
A resident and a propane truck collided on a curve between Railroad Grade and the upper switchbacks. Both vehicles had to be towed.  Fortunately, there were no injuries.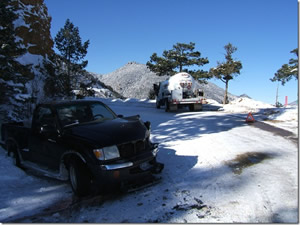 CPFD volunteers were on scene for approximately three hours, with EMS personnel responding to the possibility of injury, firefighters checking for HAZ MAT danger, performing traffic safety operations and finishing all clean-up.
The next day, a Crystal Park resident's vehicle went off the main road just below mile marker 2, hitting several trees and plunging approximately 70 feet to the bottom of the steep drainage area.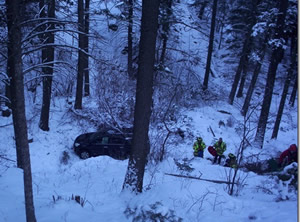 Crews from Crystal Park, Manitou Springs and Colorado Springs Fire Departments, as well as an AMR ambulance, responded to the scene.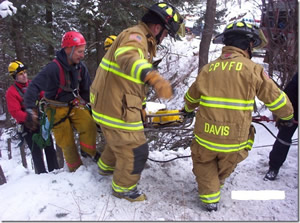 Technical high angle rescue teams from CPFD and CSFD responded to extract the victim, and to safely stabilize and move the resident up the slope to the waiting ambulance. 
Crews were on scene approximately 3 hours checking for injury, initiating rescue operations, ensuring resident safety with traffic control and cleaning up the scene.
We would like to thank the Manitou Springs and Colorado Springs Fire Departments that responded.  Their participation in helping a Crystal Park resident and supporting the CPFD was greatly appreciated.
2010 FIREFIGHTER OF THE YEAR


Engineer and Station Captain Mike Doughty was voted by his peers to be the 2010 Crystal Park Firefighter of the Year. Deputy Chief Paul Welsch presents Mike with the Firefighter of the Year Statue.
Mike was named Station Captain in 2010, and he took the job seriously. You could find him everyday at the multi-use building--installing insulation, overseeing electrical installations, organizing equipment, meeting contractors.... Thanks to Mike, the multi-use building / fire station is now ready for the cold of winter and for its critical use as an emergency shelter-in-place. Through a usage agreement with the Crystal Park HOA, the Metro District took on all expenses of the completion of the building and will also pay for all utilities and future maintenance and repairs.