2010 News and Events
Archives
2010 FIREFIGHTER OF THE YEAR


Engineer and Station Captain Mike Doughty was voted by his peers to be the 2010 Crystal Park Firefighter of the Year. Deputy Chief Paul Welsch presents Mike with the Firefighter of the Year Statue.
Mike was named Station Captain in 2010, and he took the job seriously. You could find him everyday at the multi-use building--installing insulation, overseeing electrical installations, organizing equipment, meeting contractors.... Thanks to Mike, the multi-use building / fire station is now ready for the cold of winter and for its critical use as an emergency shelter-in-place. Through a usage agreement with the Crystal Park HOA, the Metro District took on all expenses of the completion of the building and will also pay for all utilities and future maintenance and repairs.
December, 2010 Special Award of Appreciation Given to Brad Dorris

Lieutenant Brad Dorris of the Manitou Springs Fire Department received a special award of appreciation by CPFD Chief John Hennessey. Brad has been there for the department every step of the way...advising, consulting, training and supporting. Thank you Brad!
November 2010 Local Agencies Team up to Create a Special Needs Emergency Evacuation Registry for El Paso County
The El Paso County Sheriff's Office of Emergency Management, Colorado Springs Office of Emergency Management, Pikes Peak Area Agency on Aging, and Pikes Peak United Way 2-1-1 have teamed up to create a Special Needs Emergency Evacuation Registry for El Paso County.  The Emergency Evacuation Registry is a tool to help plan for evacuation in case of an emergency.  The Registry is a database designed to help emergency workers to identify people who may not be able to evacuate without assistance during an emergency.
The Registry will operate as part of 2-1-1 under Pikes Peak United Way.  2-1-1 is an information and referral hotline for health and human service needs.  Pikes Peak United Way 2-1-1 community specialists are bilingual and 2-1-1 is Colorado Relay compatible.  Simply dial 2-1-1 or 719-955-0742.
The Registry is for El Paso County residents who have some type of condition or impairment that would limit their ability to safely evacuate their home in a time of emergency.  Registration is available by calling 2-1-1 or 719-955-0742.
For interviews, please contact the following individuals:
El Paso County Sheriff's Office
Lieutenant Lari Sevene, Public Information Officer
520-7244 office, 476-9742 pager
Colorado Springs Office of Emergency Management
Lieutenant Scott Whittington
444-7413 office, 659-8165 cell phone
Pikes Peak United Way 2-1-1
Jessica Johnson-Simmons, Director of 2-1-1 Information and Referral
955-0750 office
November 2010 Cookbooks on Sale!
"Cooking with Fire" cookbooks, an auxiliary fundraiser, make excellent Christmas presents. Get your cookbook with a $12.00 donation.

Beth Ennis and Caprice Temple Michele Angelo and Joni Sexauer
To date, "Cooking With Fire" donations have brought in over $1500. Look for Auxiliary members at local grocery stores this month and next.
September 2010 CPFD Thanks Borriello Brothers Pizza for Donation!

Deputy Chief Paul Welsch accepts a donation from the Borriello Brothers
for over $3,270!
Borriello Brothers provided an unparalleled fundraising opportunity for Manitou Springs Fire Department and the CPFD.
Firefighters and Auxiliary from both departments joined with staff to prepare and serve pizzas on Sunday, September 19 at two locations:  at 8th Street and Cimmaron, and at 3240 Centennial Blvd. All Boriello Staff donated their time from 11 am to 9 pm for the benefit of these two fire departments.
The staff and management were the most gracious and patient people possible as they trained the firefighters how to make pizza! CPFD cannot thank Borriello Brothers enough for this opportunity....thank you so much!!!

(Above, CPFD FF Steve Leander makes a mean pizza crust.)
October 15, 2010 Prescribed Burn on Pikes Peak--Visible Smoke Possible
In coordination with the Colorado State Forest Service, Colorado Springs Utilities wildland fire team is planning to conduct a prescribed burn Friday/Saturday, October 15/16 on the North Slope of Pikes Peak to reduce the risk of catastrophic fire.  The decision to burn is based on the removal of Teller County's fire restrictions, and current fuel moisture conditions and weather forecast that will fall within the burn plan prescription.
About 115 acres between the North and South Catamount Reservoirs is planned for burning to improve forest health and diversity, and reduce fuels and the danger of catastrophic wildfire.

September 25, 2010 4th Annual CPFD Pancake Breakfast Attracts a Crowd Athough the purpose of the pancake breakfast is to treat the residents of the service area to food and a little education about their volunteer fire department, the community used it as an opportunity to give back. The CPFD wants to thank Crystal Park residents for contributing over $550 to the department for needed equipment. THANK YOU ALL!!!!

September 7, 2010 Two CPFD wildland firefighters deploy to Boulder/Fourmile Canyon Fire
Steve Leander and Ed Costello volunteered to accompany the Manitou Fire Department and the El Paso Wildland Crew. As of Sept. 7, the fire continues to spread:
September 2010 Dry, Hot Weather Turns Colorado Foothills into a Tinder Box
People are blamed for the blazes that raced through foothill communities west of Boulder and Loveland, but it was a month of exceptionally dry and hot weather that allowed the fires to happen. Read more: Dry, hot weather turning Colorado foothills into tinderbox - The Denver Post by Bruce Finley
August 2010 CPFD Continues to Build Positive Relationships with First Responding Agencies within El Paso County. 
On Sunday, July 18th, Crystal Park Fire Department worked with El Paso County Search and Rescue (SAR) and "Squad 16" (a high tech communications vehicle) to provide communications for a scheduled race on Barr Trail. During this visit, we worked with the Squad 16 team in scouting locations within Crystal Park that could be useful in supporting possible future incidents/communications needs within  El Paso County, and more importantly, within the Crystal Park District. 
Details about "Squad 16" can be found at the following website: http://usadrc-squad16.us/
August 2010 CPFD Welcomes Two New Volunteers and a new Lieutenant
FF Eric Julian was promoted to Lieutenant for the CPFD, filling the vacancy left by Sean Collins. He is also a member of the El Paso Wildland Fire Suppression Team and will take leadership of the wildland firefighting crew for Crystal Park.

Ed Costello joins the department already bringing a host of firefighting skills and training. He will join both the wildland firefighting crew and the structrure crew. Kevin Wood is the son of Beth Larson, and will join the wildland firefighting crew.

Congratulations to Eric, and a big welcome to Ed and Kevin.
August 2010 Crystal Park Shelter-in-Place Designed for Safety from Wildland Fire
In 2006, the Crystal Park HOA voted to build a multi-use building....one of the uses was to be a Shelter-in-Place in case of wildland fire. Pictures from an Alaskan wildland fire clearly show how well an all metal building with defensible space will survive a wildland fire. The Crystal Park Shelter-in-Place is completely clad in metal; and a wide berth of open space protects it from fire.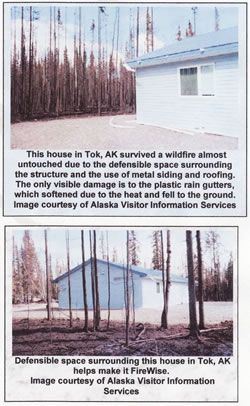 August 2010 CPFD's Engine 910 Undergoes Annual Pump Testing


To ensure that our apparatus and equipment remains operational and ready to respond to an incident, annual testing is done to ensure our equipment can do the job it's intended to do.  On August 4, Engine 910 was tested by a team from CPFD, MSFD and Underwriter's Laboratory. 

The engine did very well, pumping 750 GPM for 20 minutes at 150 PSI, and at 200 PSI for 10 minutes.
July 2010 Structure Training at Fort Carson

Crystal Park firefighters train at Fort Carson's fire tower to gain structure fire training. CPFD Engine 910 performed superbly as it provided attack hose lines for CPFD and MSFD firefighters under realistic fire ground conditions.


CPFD firefighters prepare to enter the structure to conduct a primary search and fire suppression. This training is part of the continuing volunteer spirit our firefighters have in protecting the Crystal Park District. Special thanks goes to Ft Carson for allowing us to use their facilities to enhance our proficiency and effectiveness.
July 2010 CPFD Successfully Works With El Paso County ESA for Emergency Services Response Times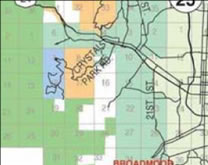 The CPFD has worked with the Emergency Services Agency (ESA) for the last two years to ensure Crystal Park is recognized with official response times from the AMR ambulance contractor in El Paso County. For 2010, the current ESA Response Time Zone Map reflects 45 minute ("Frontier 45") response times for residents living in the upper park above the switchbacks (indicated by blue in the map above); and 20 minute ("Rural 20") response times for residents of the lower and middle park (indicated by pink).

This is a major milestone for the community since before the CPFD was formed, there were not any designated response time requirements. We want to thank the ESA for working with the CPFD to get this accomplished.
The complete map for all of El Paso County can be found at the
2010 ESA Timezone Map.
July 14, 2010 CPFD Supports Search and Rescue of Two Lost Hikers
On July 14 at about 6:00 PM , two women were hiking above Colorado Springs and became lost somewhere south of Crystal Park as reported by 5NewsFirst. A major search and rescue effort was launched by the El Paso County Search and Rescue (SAR), the Crystal Park Fire Department, Flight for Life and United States Disaster Relief Corps.
CPFD answered the call to assist the El Paso County SAR from 9:00 PM to midnight and again later at 4:00 AM to 7:00 AM.
The two lost hikers were tired, but in excellent spirits, and were appreciative of all of the rescue efforts on their behalf.
May 2010 Flight-for-Life Comes to Crystal Park

CPFD firefighters and EMS volunteers received training from the Flight-for-Life crew. The pilot also checked out both landing pads for future reference.
May 2010 CPFD Auxiliary announces "COOKING WITH FIRE" is now available!
For a $12.00 donation for each copy, collect new recipes from the residents of
Crystal Park. Please contact auxiliary@crystalparkvfd.org or sign up for your copies in the CP Mail Room. This is an Auxiliary Fund Raiser.


May 2010 CPFD Welcomes Newest Volunteer
Andra Martin is the department's newest member, and will join the EMS team as an Emergency Medical Technician-Basic (EMT-B)
April 25, 2010 Crystal Park Fire Department Responds to Fires in Manitou Springs.
Excerpt From the Colorado Springs Gazette: By 1 p.m., firefighters had contained a series of small fires burning on Barr Trail near the Pikes Peak Cog Railway.Thirty firefighters from six different agencies battled several blazes on Barr Trail, which were sparked after power poles were knocked down by high winds in the area.In all, eight fires burned one acre, according to the Colorado Springs Fire Department. When the poles fell down, the electricity sparked the Pikes Peak Cog Railway to start. Afternoon runs of the train were cancelled due to the fire and power outages. Firefighters are now putting out hot spots on the mountain, a task expected to last another few hours. Other agencies also responding to the blaze included the Manitou Springs Fire Department, the Crystal Park Fire Department and El Paso County wildland fire crews.

National Institute of Standards and Technology: Landmark Residential Fire Study Shows How Crew Sizes and Arrival Times Influence Saving Lives and Property
WASHINGTON D.C. – A landmark study issued today (4/28/10) by the U.S. Department of Commerce's National Institute of Standards and Technology (NIST) shows that the size of firefighting crews has a substantial effect on the fire service's ability to protect lives and property in residential fires.

"Fire risks grow exponentially. Each minute of delay is critical to the safety of the occupants and firefighters, and is directly related to property damage," said Averill, who leads NIST's Engineered Fire Safety Group within its Building and Fire Research Laboratory.
CPFD meets and/or exceeds the benchmarks for number of firefighters; time to incident; time to water on fire; primary search; occupant rescue and other variables used for this study: Read Short Summary Here. Download "Report on Residential Field Experiments" (22.12 MB)
March 2010 Colorado Springs Utilities Provides Training to Volunteers

Mike Dornick, of Colorado Springs Utilities, conducts training on Crystal Park's electrical distribution grid for CPFD and Manitou Springs Fire personnel on the evening of January 12, during one of the Department's regular training sessions.  This training was to familiarize firefighters with the proper procedures when there is electrical grid involvement in either wildland or structure fires.  It also resulted in an updating of Utilities maps of Crystal Park.
March 2010 Congratulations to Brad Dorris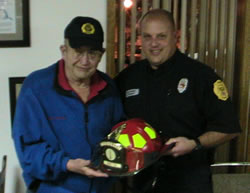 Brad Dorris, of MSFD, receives his Lieutenant helmet  and celebrates the occasion with his father, Jerry Dorris, a retired Firefighter with 27 years on the job.  Crystal Park Fire Department members were on hand for the presentation to congratulate LT Dorris who has been instrumental over the last three years in helping the CPFD grow their capability. 
February 2010 Rescue Training Close to Home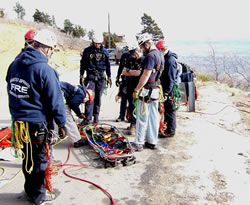 Crystal Park Fire Department  and Manitou Springs Fire Department High Angle Rescue Team conducts training involving the simulated rescue of a person over the edge in the upper park.
February 8, 2010 CPFD and MSFD Sign Mutual Aid Agreement
CPFD Chief John Hennessey and Manitou Springs Fire Department (MSFD) Chief Keith Buckmiller signed a Mutual Aid Agreement (MAA) for Emergency Medical Services, High Angle Rescue and Fire Service Special Operations that will further protect both Districts. This MAA requires the CPFD to support the MSFD during incidents when additional resources are required and further strengthens the protections provided to the Crystal Park residents. Until this agreement was signed, MSFD was under no obligation to respond to these types of incidents in Crystal Park, or if they did, had the legal right to charge for each incident. Because of the mutual aid that CPFD provides to Manitou Springs, there will be no cost to the CPHOA, the Metro District or to individual residents for MSFD services for these types of incidents.
January 2010 Firefighters Complete Ice Rescue Training
Two CPFD firefighters complete icy training course in Grand Junction:
Steve Leander and Collin Powers are now certified Level One Ice Rescue Technicians.

January 2010 Single Vehicle Accident in Park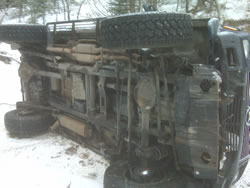 Recently, CPFD personnel responded to a single vehicle accident on Crystal Park and Neeper Valley Roads. Although there were no significant injuries, CPFD first responders and EMT's provided on-scene care. The accident blocked Neeper Valley for several hours; CPFD personnel remained on-scene for safety and traffic control until Neeper Valley Road was reopened.
January 2010 Eleven Firefighters Complete Emergency Vehicle Driver Training
An Aid to Firefighters Grant (AFG) enabled CPFD to train its firefighters to drive emergency vehicles safely and efficiently. Volunteers meet national standards with the completion of the course. In all, 11 firefighters completed the course.


Above: Dick O'Brien concentrates as he drives through a close quarters maze during Emergency Vehicle Driver Training course. Adam Sand waits for his turn at the wheel.
January 2010 Manitou Springs-Crystal Park High Angle Rescue Team Trains for the Tough Mountain Emergencies



January 2010 Annual Firewood Fundraiser
CPFD raised $1,860 from its firewood donations in 2009. Thanks to all the volunteers that made it happen!
2009 FIREFIGHTER OF THE YEAR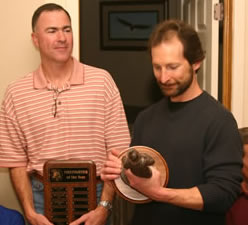 Jim Mesirow was named 2009 Firefighter of the Year by his fellow firefighters. Chief Hennessey presents Jim with a firefighter statue to recognize his commitment to the department, his ability to keep the emergency vehicles in top running condition, and his recent training and joining with the Manitou Springs Crystal Park High Angle Rescue Team.