Official Site for the Crystal Park Volunteer Fire Department
and the Crystal Park Metropolitan District
CLICK HERE FOR CURRENT FIRE WEATHER CONDITIONS
WILDLAND FIRE DANGER IN CRYSTAL PARK:
Medium

IF there is a RED FLAG WARNING, fire danger becomes EXTREME!
CALL 911 for all Fire, Smoke Investigations and Life Threatening Emergencies
REVERSE 911: RE-REGISTER Your Home, Cell and VOIP Phones NOW!
2018 CPFD OFFICERS ANNOUNCED
Each year the CPFD volunteers vote for officers for the coming year.
Chief: Steve Leander
Deputy Chief: Landon Lee
Foreman: Collin Powers
Treasurer: Archie Wilson
Secretary: Stephanie Murphy
APPOINTED BY CHIEF LEANDER: Lieutenant Eric Julian; Lieutenant Scott Quigley
LIFETIME MEMBERS OF THE CPFD: Engineer Dick O'Brien; Retired Chief Paul Welsch
We thank all of these volunteers of their willingness to put in the extra time required of their office.
COME AND JOIN US: BE A CPFD VOLUNTEER FIREFIGHTER!!
Rocky Mountain: Normal significant wildland fire potential is expected in January for the region. Significant fire potential is expected to increase to Above Normal across southwestern Kansas, south central Nebraska, and southeast Colorado from February through April. Elsewhere, expect Normal significant wildland fire potential from February through April. Warm anomalies continued from November into the first half of December, with a shift of the warmest conditions moving toward the northern portions of the region. During November and especially through the first half of December there was a very dry pattern with much of the central to southern portion of the region receiving less than 25% of average precipitation, and 0% over a large portion of western Colorado and southwest Kansas. Long range precipitation deficits are noted in spotty areas across south-central and southeastern Kansas, and also across west-southwest Colorado. Fuels available to burn this time of year are primarily categorized by dry grass and brush in the lower elevations, especially across the eastern grasslands. Above average moisture during the 2017 spring growing season has resulted in significant fuel loading across the plains, especially in southern/western Kansas. Mountain snow-pack got off to an early start in the fall; however significant deficits have emerged from southern Wyoming through Colorado, especially in southern Colorado. This has exposed fuels that are typically under snow this time of year. Short-medium range model forecast precipitation through early January are reflective of an active upper level northwest flow with embedded frontal systems generating snow at times, with the exception of a dry swath persisting across western Kansas into southwestern Nebraska and southeastern Colorado. The continued weak La Nina is influencing long range outlooks with an average to wetter than average regime in the northern portion of the geographic area with a cooler bias as well in the north. In the southern portion of the region, indicators favor average temperatures in combination with drier than average conditions, especially across the southern plains. As the region continues its typically slowest time of the year in terms of large fire activity, forecast weather patterns through January point towards average large fire risk overall for the month. Lower elevations in the far southern portion of the geographic area look to be most susceptible to short duration wind driven grass/brush fires during January. Above average large fire potential is predicted for February through April as a result of pre-green conditions and increasing warm, dry, and windy periods combining with areas of moderate to heavy fuel loading across the plains of southeastern Colorado, southern and western Kansas, and southwestern Nebraska.

CPFD RESPONDS TO TRUCK FIRE ON CRYSTAL PARK ROAD
Smoke could be seen for miles around, sparking fears of a wildland fire. There were no injuries.
Junior Firefighters at the Crystal Park Fishing Derby

CPFD Firefighter Dre Elsner helps our Junior Firefighters train for their future!

Two More Crystal Park Firefighters Complete
High Angle Rescue Training

Ever wonder what would happen if you fell off a cliff or your car went off one of our roads? We would bring in our CPFD High Angle Rescue (HAR) Team to get you to safety. Firefighters Nick Gurin and Scott Quigley recently completed a technical rescue class and they join the rest of our HAR team to ensure the rescue-to-safety of our Crystal Park residents.

WHAT EXACTLY IS A RED FLAG WARNING?
The National Weather Service issues red flag warnings when the following conditions are present leading to extreme wildland fire danger: Humidity is low, temperatures are high, ground fuels are dry, and winds are strong. In combination, these conditions lead to a critical and dramatic increase in wildfire activity. We know! We have seen both Waldo and Black Forest fires flare up and out of control within a very short time.
Remember, Crystal Park never allows outside wood fires under any circumstances. But during red flag warnings it becomes even more important to exercise caution: Be extra careful with your charcoal grill on the deck. Does your wood stove have a spark arrestor on the chiminey? Is your outdoor equipment in good working order so that no sparks are given off?
Crystal Park never allows fireworks of any kind within its borders, so please do not test those rules! They are there for our protection. And what about smoking outdoors....do you flip your ashes or your cigarette butt off the deck or out of the car window? DON'T!!! During a red flag warning, that could have dire effects. Have you instructed any workmen at your house not to smoke outside? Do it.
We must all be vigilent: report smoke or fire odor by calling 911. It is OK if it turns out to be unfounded!!! Better safe than sorry, right? Make the call!

CPFD SHARES LESSONS LEARNED FROM OUR MOST RECENT CALLS:
Everyone's Safety in Crystal Park Depends on You.....Yes, You!!!
1. Fire danger: What kind of and how old is that heater you use to keep your pipes from freezing? Has your chimney been cleaned within the last year? Where and how are you dumping your fireplace ashes? Do you have a good spark arrestor on the top of your chimney? Do you have fire exinguishers handy in case of a small fire in your home?
2. Chain sawing: Definitely a good idea to always have a buddy with you. But no matter what, wear protective gear: Special chaps and vests to protect you from a misbehaving chain saw; helmet; protective eye wear; good boots and gloves. Please go and watch UTube videos about the safe operation of chainsaws.
3. Driving CP roads: Slow down....or face the danger of going off the road and rolling downhill. Or even worse, your speed can cause your neighbor to go off the road in trying to avoid you....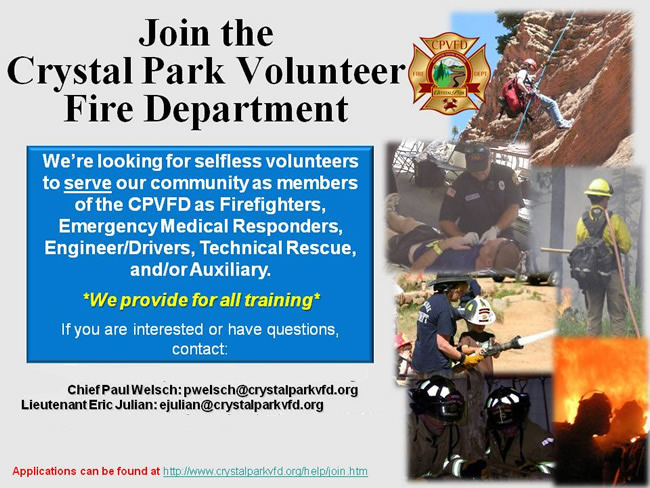 CRYSTAL PARK
METRO DISTRICT
Next CPMD Board Meeting:
April 4, 2018
6:00 PM
CPFD Station

AGENDA